JB's Top Tips to keep your pets safe this Christmas
JB's Top Tips to keep your pets safe this Christmas
Chocolate, Christmas Pudding & Mince Pies
Most pet owners already know that chocolate is toxic to dogs, but did you know it is actually toxic to cats too? Though cats are less likely to be tempted by those chocolatey treats, it's worth keeping those advent calendars high up, out of reach and avoiding chocolate tree decorations too.
Christmas pudding and mince pies also contain dried fruits which have a high toxicity to dogs, with just small amounts having the ability to cause kidney failure. Many of us will be distracted with cooking and opening all those gifts on the big day, so make sure any dangerous foods are well out of reach for those counter surfing pooches.
Quiet time
The hustle and bustle of Christmas visitors may get some pets excited for all those extra snuggles, but be sure to give them a safe, quiet place for some time-out, so they can get some rest if needed. Young, excitable dogs often can't pace themselves, so be sure to give them a short time out to rest if they are getting over-excited.
Many cats can be timid around any noise that's out of the ordinary for your home, so be sure to give them a quiet area to hide away too! 
Cooked bones
All dogs just LOVE a juicy bone, right? Don't make the mistake of sharing the turkey carcass with your pets. ALWAYS keep cooked bones off limits.
Cooked bones are lethal to dogs as they can splinter and break up, which can cause severe internal damage as well as being a choking hazard. Whilst raw bones are good for teeth and mental stimulation, make sure to check the sizing is right for your dog and never leave them unattended with a bone.
The Christmas Tree
The extent in which you pet-proof your Christmas tree really depends on the pets you have and their cheeky personalities!
If your pet is likely to eat/chew or investigate the tree then it's probably best to keep them separate when unattended. If, like mine, your dog is a ball-addict, those baubles can appear irresistible when they are actually very dangerous.
Many christmas trees with fake snow can be toxic if ingested. Decorations such as ribbon and tinsel can get tangled internally and cause intestinal damage.
If you do your research into what is and is not safe for your dog at during the holiday season, everyone can have a happy Christmas, without any unexpected trips to the vet!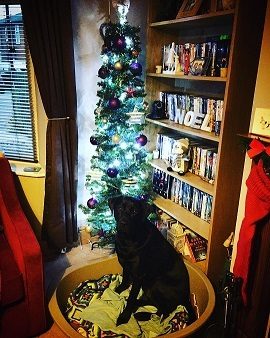 ​Merry Christmas from all at Jurassic Bark! ​